Rafael Loza, COO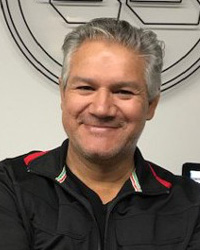 Rafael Loza grew up helping his father on a farm which was instrumental in the development of diverse problem-solving skills and a common sense approach to always finding solutions. Having a calm and positive demeanor he is a living example of "where there's a will there's a way".
As a young man he explored many fields of knowledge and creativity including fine arts, construction, bicycle repair and business management.
In 1996 Rafael began working with scenery, learning metal fabrication, rigging, welding, carpentry, engineering as well as pneumatic and hydraulic special effects. He has built 1000's of sets custom tailored to each show, music video, or commercial they were for.
Rafael has been engineering projects and running crews for over 30 years
Among his accomplishments are projects for Pepsi Cola, Madonna, Coldplay, Nine Inch Nails, Lenny Kravitz, The Red-Hot Chili Peppers, Britney Spears.
The Biggest Loser, Pizza Hut, Mc Donald's, Burger King, KFC, Honda, Home Depot, Domino's, Mary J. Blige, Miley Cyrus, Rihanna, KFC, Taco Bell and the list goes on.
Rafael has a very impressive 100% on time track record and is dedicated to learning and growing on a daily basis.
In living life to the fullest he has created "Imperio Real" Tequila, has executive produced "The House" (a TV show on Fox Soul) as well as being E.P. on Two new full-length feature films to be released soon. Rafael has also been doing real estate development for the past 20 years and has upgraded several houses and ranch properties.
Rafael is active in several non-profit charities including one that brings supplies to those in need during the holiday season. He enjoys spending time with his children and other activities such as motorcycles, hiking, singing, gardening and fine art painting.