Mike Orth, Senior PM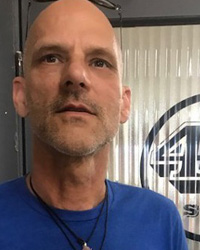 Mike Orth's passion for building began when curiosity about how things work led him to disassemble and reassemble household appliances at the age of 4. He built and repaired all sorts of things growing up.
At nineteen, he learned guitar and violin making. Mike worked as a luthier for two years then learned cabinetmaking expanding his fine woodworking skills. He designed and built custom cabinets for 20 years then shifted to project management building custom houses.
In 2006, Mike studied various CAD and CNC programs designing and making complex projects using state of the art technology. This led him to work in the scenery business in 2008. In 2010 he began classes in architecture and production design and continues to learn on a daily basis.
Some highlights of Mike's career include elements for: Disney Avatar ride, Smithsonian Many Voices One Nation and American Democracy, ESPN Sports Center set, The Color of Life at California Academy of Science and Cosmopolitan Las Vegas Vesper Bar Ceiling, Video Columns. Mike has done Production/ Technical design for 1000's of sets, museums, theme parks, etc.
Mike and Rafael have been working as a team since 2008 and continue to refine processes, expand skills and knowledge. The team has successfully completed 1,000's of projects together.
Mike also enjoys friends and family, songwriting, music production, hiking, biking, surfing, meditation, reading, public speaking and mentoring.